An Overview
MOLBASE was found in 2013, headquartered in Shanghai, China. It provides a leading SaaS-based and data-driven integrated service platform for chemical e-commerce designed for small and medium-sized chemical-related businesses. Global users have used the platform to conduct various activities including chemical searching, promotion, inquiry, transaction, and payment, etc. The platform helps chemical suppliers design and set up their online stores, enables them to manage products and inventory, process orders and payments, build customer relationships and leverage analytics and reporting. Suppliers can also use "Chemical circle(化工圈)" and "chemical transportation circle(化运圈)", our iPhone and Android APPs, to manage their business on the go.
The platform helps the buyers search for products, choose appropriate product suppliers to buy from, and facilitate the transaction with many value-added services including supply chain financial services, business intelligence services, logistic and warehousing services.
For traditional chemical distribution system, there are many intermediaries (distributors, traders, retailers) between the suppliers and buyers. These intermediaries make the chemical transaction lengthy, with high cost and low efficiency.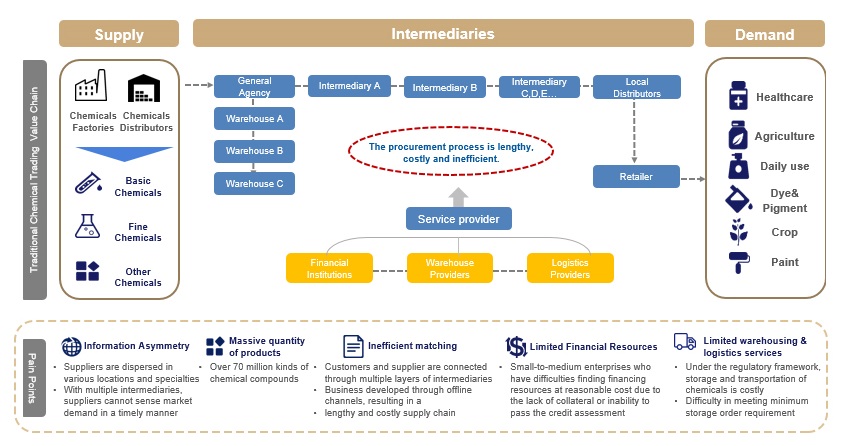 Technology and the internet are now transforming commerce, presenting a golden opportunity to digitize the chemical industry, and disrupting the traditional chemical distribution system accordingly. At MOLBASE, we built our platform based on the most comprehensive chemical database and SaaS tools we have developed, to address the problems with the traditional distribution system, with the aim of making chemical transaction simple and easy. A rich ecosystem of suppliers, buyers, bank and non-bank financial institutions, logistic & warehousing companies, and other partners has evolved around the MOLBASE platform. The platform's functionality is highly extensible and can be expanded through our application program interface, or API, and the Apps including "Chemical circle", and "Chemical transportation circle". This ecosystem helps drive the growth of our customer base, which in turn further accelerates growth of the ecosystem.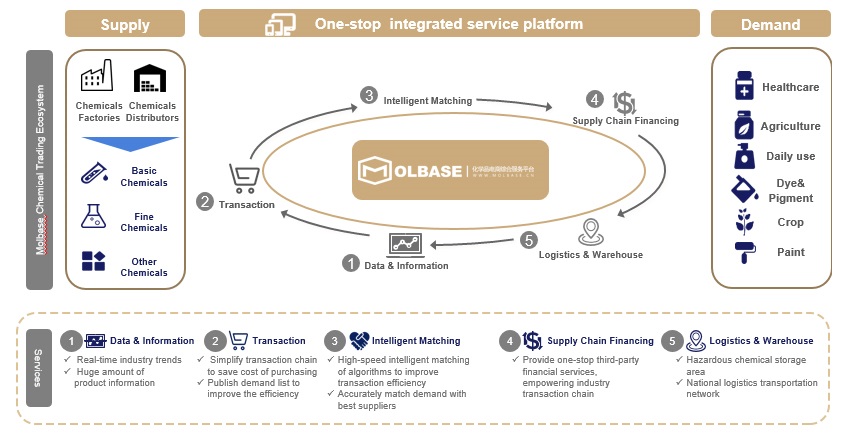 The MOLBASE platform has been engineered to enterprise-level standards and functionality to provide one stop shop services to customers. The platform provides customers with an intuitive user experience that requires no up-front training to implement and use, enabling customers to conduct transaction with high efficiency. We believe the platform is mission critical for all of our customers and they depend on us for the latest data, information and technologies in chemical e-commerce. We are constantly innovating and enhancing our platform. Our continuously deployed, multi-tenant architecture ensures that all of our customers are always using the latest technology.
Our mission is to make chemical transaction simple and easy for everyone and we believe we can help customers of nearly all sizes realize their potential. As a result of our expanded business coverage and user acquisition efforts, we have been accumulating an exponentially growing customers and suppliers base. As of December 31, 2018, we had accumulated over 200,000 registered users, among them, 94,373 are customers and 33,752 are suppliers (who has an online store) on our Platform, and had built a nationwide supplier network, covering 376 cities in China. We also provide various value-added services as a part of our ecosystem such as our business intelligence service, membership service, financing information services, logistic and warehousing service, etc.
Our business has experienced rapid growth. Our total GMV increased from RMB 39.6 billion ($5.82B) in 2016, to RMB 83.2 billion ($12.2B) in 2017 and to RMB 169.7 billion ($24.9B) in 2018, representing year-over-year increases of more than 100%. We have become the largest service platform for chemical e-commerce in China in terms of GMV. For three consecutive years (2016-2018) in a row, MOLBASE was rated as "Top 100 B2B Industry in China" and ranked the first in the chemical e-commerce industry.